Japanese Turnip (Hakurei)


What: Yates Seed.
Where: Medium black pot
When: 24th April 2010.
Sown in: Recycled Potting Mix.
Fertiliser: Thin layer of RICHGROW: Organic Blood and Bone + Trace Elements & Sulphate of Potash 100mm below surface. Weekly application of YATES: Multi-Nutrient Plant Food with Seaweed at 5ml/L.
Advertised Germination: 6-10 days.
Actual Germination: 5 days.
Advertised Maturity: 6-10 weeks.
Actual Maturity:
30th April 2010

These suffered a lot from over-watering while I was away on holidays and some aphid damage but seem to have bounced back with some TLC.
May 2010




15 June 2010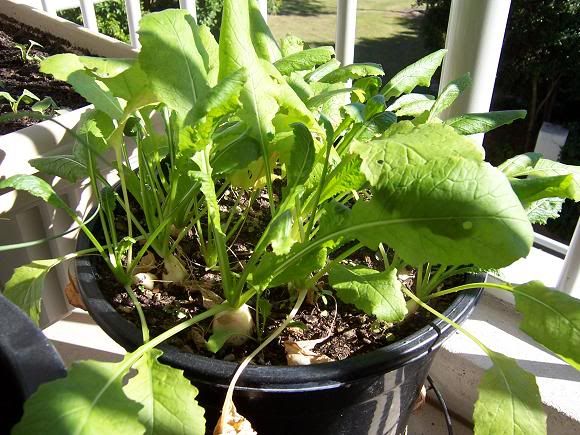 I thought I'd get another lot going:

What: Yates Seed.
Where: Medium black pot
When: 6 June 2010.

Sown in: Recycled Potting Mix.
Fertiliser: Thin layer of RICHGROW: Organic Blood and Bone + Trace Elements & Sulphate of Potash 100mm below surface. Weekly application of YATES: Multi-Nutrient Plant Food with Seaweed at 5ml/L.

Advertised Germination: 6-10 days.
Actual Germination: 7 days.

Advertised Maturity: 6-10 weeks.
Actual Maturity: