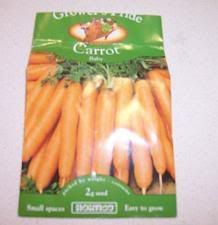 Baby Carrots

What: Seed (Grower's Pride Baby Carrot).
Where: Large Rectangular Self-Watering Planter.
When: March 2010.

Sown in: Recycled Potting Mix at a depth of 6mm.
Fertiliser: Thin layer of RICHGROW: Organic Blood and Bone + Trace Elements & Sulphate of Potash 100mm below surface. Weekly application of YATES: Multi-Nutrient Plant Food with Seaweed at 5ml/L.

Advertised Germination: 10-21 days.
Actual Germination: 16-18 days.

Advertised Maturity: 10-12 weeks.
Actual Maturity:

I didn't have a lot of luck last year with these but I have put them in a sunny spot with some cucumbers and hope to at least get a few good bunches of carrot tops to use for tempura.